There are many ways to install and configure Kodi, but when you're just starting out it can be overwhelming. Here's a quick tutorial on how to get up and running in the shortest possible time with our recommended configuration.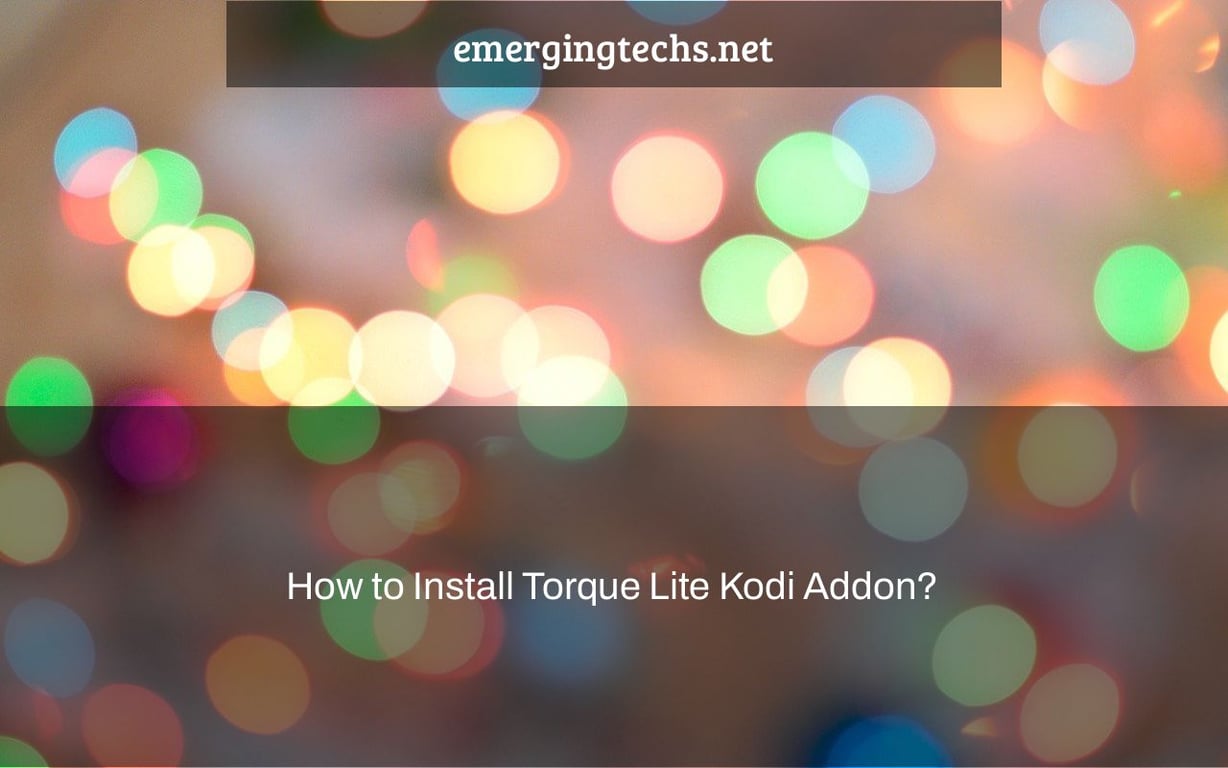 Torque Lite is a Kodi Sports addon that focuses on racing streaming. All live motor racing events and replays are available in high-definition streaming. Super Cards, Super Bikes, Live Zone, Car Shows, Racing Archives, and more are among the components of the addition. The addon allows you to watch Formula 1, V8 Supercars, MotoGP, NASCAR, and a variety of other racing events in high-definition streaming. Despite the fact that the Torque Kodi addon has a restricted number of categories, you may still view a lot of essential racing footage. If you like watching racing events, the Torque Lite Kodi addon is a good option for you. We'll teach you how to install Torque Lite on FireStick, Windows, Android, Mac, Nvidia Shield, Android Box, and other Kodi-compatible devices in this post.
Torque Lite is a Kodi addon that you may install.
Why is it necessary to use a VPN with Kodi?
Kodi features a plethora of addons that cater to a variety of needs. Some addons are only available in certain parts of the world. Your IP address is given to your ISP when you stream, and they may simply figure out what material you're watching. A VPN service is required to prevent these challenges and circumvent geo-restrictions. There are other VPN services available; we suggest ExpressVPN since it allows you to view your favorite content from anywhere in the globe while also providing security while using Kodi.
Torque Lite Addon is easy to install on Kodi. Install the addon on your Kodi-compatible devices, such as Windows, Mac, FireStick, and more, by following the steps below.
Prerequisite: On your Kodi, enable the Apps from Unknown Source option before installing any third-party addons. To do so, go to Settings > System Settings > Addons > Unknown Source > Enable.
Step 1: Open the Settings menu in your Kodi software.
Step 2: In the settings box, choose File Manager.
Step 3: Next, from the left-hand menu on the screen, choose Add Source.
Step 4: Select the choice and press the OK key.
Step 5: Click the OK button after typing in the Torque Lite Repo URL: http://www.narcacist.com/repo/.
Learn how to set up the FANime Kodi addon.
Step 6: Click the OK button after entering the repo Narcacist's name.
Step 7: Double-check that the information you provided is accurate, then click the OK button.
Step 8: Return to Kodi's home screen and choose the Addons option.
Step 9: Go to the upper left corner of your Kodi program and open the Package Installer.
Step 10: Select the option to install from a zip file.
Step 11: A pop-up window will appear; just pick the Narcacist.
Step 12: Open the Torque Lite Repo zip file repository by clicking on it. Click the OK button after downloading NarcacistWizard.zip.
Step 13: Wait a few minutes for the Repository to download and install on your device. A pop-up will appear in the upper right corner of the screen when it is finished.
Step 14: Select Install from Repository from the drop-down menu.
Step 15: Select the Narcacist Wizard Repository from the list of available repositories.
Step 16: To access it, click Video Addons.
Step 17: From the list of Video addons, choose Torque Lite.
Step 18: At this point, Torque Lite Addon may be installed on Kodi by clicking the Install button.
Step 19: A pop-up window will appear, listing all requirements and addons. Simply click OK to install them.
That's all; your Kodi-enabled devices are now ready to stream your favorite motor racing events.
Final Thoughts
Torque Lite is one of the greatest Kodi addons for watching auto and motorcycle events. Furthermore, the plugin has a distinct live area that keeps you up to speed on current happenings. The replays may also be found in other areas of the addon. We hope this post was helpful in getting Torque Lite Addon installed on Kodi. This instruction works with all Kodi-compatible devices, including FireStick, Windows, Android Box, Mac, Mi Box, Nvidia Shield, and more.
Thank you for taking the time to read this post; if you have any questions, please leave a comment below.
Related
Watch This Video-
Frequently Asked Questions
How do I install Torque Lite on Kodi?
A: Torque Lite is a Kodi addon that will allow you to access more than 1000 streaming channels from around the world. It allows for video, music and TV streams at your fingertips without having to search through endless menus of addons like Trakt or Exodus.
How do I install third party addons on Kodi?
A: This is not a question, but if youre looking for help installing third party addons on Kodi, theres this guide.